This wiki contains information regarding the universe of Space: Above and Beyond, an American science fiction television show that aired on the FOX Network for 1995–1996 season. After its cancellation the show aired on the Sci-Fi Channel (now Syfy).
Wikia Content
[
]
Plot Summary
[
]
Set in the years 2063–2064, the show focuses on the Wild Cards, members of the United States Marine Corps 58th Squadron deployed in the United States Navy space carrier USS SARATOGA.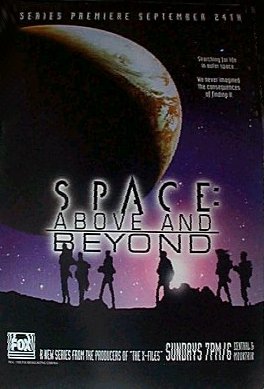 Creators
[
]
The series was created, written, and produced by Glen Morgan and James Wong, who had previously produced The X-files.
Influences
[
]
The main fictional work that influenced Space: Above and Beyond was the 1974 science fiction novel The Forever War by Joe Haldeman,[1] in addition to other fictional works such as the 1948 World War II biographic novel The Naked and the Dead by Norman Mailer, the 1895 American Civil War novel The Red Badge of Courage by Stephen Crane, and the Iliad, and the 1962 television series "Combat!."[2]
Production
[
]
The show was filmed in Queensland, Australia, and at Warner Roadshow Movie World Studios by 20th Century Fox Television and Hard Eight Pictures Inc. in association with Village Roadshow Pictures.
As technology matured and costs of computer systems with performance suitable for 3D rendering became affordable, Space: Above and Beyond relied heavily on computer generated imagery (CGI) for space scenes. Physical special effects played a significant role in the production of the series as well.
Awards
[
]
The series was nominated for two Emmy Awards and one Saturn Award.
DVD release
[
]
In 2005, Space: Above and Beyond was released on DVD in the United States and Canada by 20th Century Fox as a set of DVD-10 discs. Episodes feature closed captioning, and the set also contains some of the original television promotional advertisements for the series. Certain pressings feature a distorted image of the Babylon 5 space station—which is unrelated to and does not appear in the series—on the discs' title screens.
References
[
]