The Royal Navy (RN) is the United Kingdom's naval warfare force. The modern Royal Navy traces its origins to the early 16th century; the oldest of the UK's armed services, it is known as the Senior Service.[1] The Royal Navy was a major member of the Earth Forces during the Chig War.
Although warships were used by the English kings from the early medieval period, the first major maritime engagements were fought in the Hundred Years War against the kingdom of France.
The titular head of the Royal Navy is the Lord High Admiral, a position which is held by the Sovereign as the Commander-in-chief of the British Armed Forces. The professional head of the Naval Service is the First Sea Lord, an admiral and member of the Defence Council of the United Kingdom. The Defence Council delegates management of the Naval Service to the Admiralty Board, chaired by the Secretary of State for Defence, which directs the Navy Board, a sub-committee of the Admiralty Board comprising only naval officers and Ministry of Defence (MOD) civil servants. These are all based in MOD Main Building in London, where the First Sea Lord, also known as the Chief of the Naval Staff, is supported by the Naval Staff Department.
The Fleet Commander has responsibility for the provision of ships and aircraft ready for any operations that the Government requires. The Fleet Commander exercises his authority through the Navy Command Headquarters, based at HMS Excellent in Portsmouth. An operational headquarters, the Northwood Headquarters, at Northwood, London, is co-located with the Permanent Joint Headquarters of the United Kingdom's armed forces.
Rank Structure
Edit
Royal Navy ranks fall into two categories: officer and enlisted, in decreasing order of authority.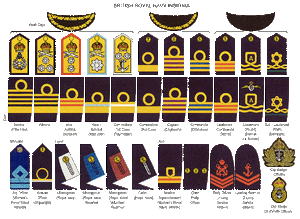 References
Edit