Eyes is the sixth episode of Season 1 of Space: Above and Beyond.
The episode aired November 5, 1995 on the Fox Network.
The Secretary General of the United Nations is assassinated by an In Vitro. The UN assembly decides to gather upon the USS SARATOGA to choose a replacement, while a mandatory loyalty test is imposed upon all In Vitroes in the military, including Colonel McQueen and 1LT Cooper Hawkes. Meanwhile West is informed that high-ranking UN officials knew about the alien threat before the colonists were sent to the Vesta Colony.
Cast & Characters
Edit
Main Cast
Edit
Recurring Cast
Edit
Additional Cast
Edit
Executive Producers
Edit
Producers
Edit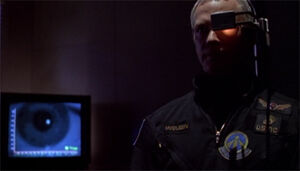 The In Vitro loyalty test administered to McQueen and Hawkes in this episode is similar to the Voight-Kampff test used in the movie Bladerunner to determine if an individual was a Replicant.
References
Edit